Francois Pienaar is South African rugby royalty. Served as captain and flanker for the South African Springboks national rugby team in the 1990s. Won 29 international caps (awards for appearing in international tournament games) and led the 1995 Springboks to a Rugby Union World Cup championship. Pienaar's achievement in sport on such an international level during Nelson Mandela's post-apartheid presidency was instrumental in helping unite all South African people behind a common cause. Pienaar founded MAD Foundation in 2003. The foundation offers education, support, leadership and life-skills development to academically talented scholars who do not have the necessary financial resources.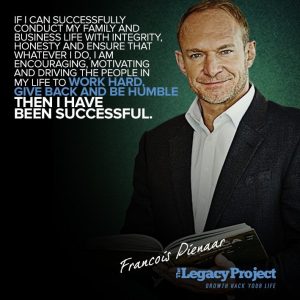 My Definition of Success| There is no perfect answer for what success means, as success means different things to different people depending on what is important to them at that time in their life and what they place a value on. Success in my life has therefore most definitely been an evolving definition – as you grow up and mature, what you place importance on changes. You learn, you grow and the more success you are lucky enough to enjoy, the more the need to spread it around and ensure that your success is changing other lives too.
My personal definition of success is to aim to be an inspiring leader across all areas of my life – as a father, a business man and a role model, and to significantly impact my environment. Success for me is not just about achieving my personal goals but uplifting others as I attempt to do so. I believe that I have been successful if I have lived my best life – that means that I have worked honestly to achieve my goals and I have motivated the people in my life to live their best life too. If I can successfully conduct my family and business life with integrity, honesty and ensure that whatever I do, I am encouraging, motivating and driving the people in my life to work hard, give back and be humble then I have been successful.

I Am Driven By | The non-profit organization I founded in 2003 – Make A Difference Leadership Foundation. I am astounded every day at the future leaders on our programme – not just by their academic performance but the personal drive and responsibility they feel to create positive change in South Africa. They have overcome many challenges in their lives but they all still have a desire to give back, work hard and make a difference. We can all take a leaf out of these scholars' books – that if you work hard, you will be rewarded, if you stay focused, your dreams can come true and above all else, no matter what walk of life you have come from, no matter who you are or what you earn – you can be the difference. Our scholars remind me every day that to be a great leader you need to be ambitious, passionate, courageous and confident but you need to match that with hard work, discipline, honesty and humility. I am driven to be a better person, to work harder, to do more and to live and breathe the principles of paying it forward. They drive me. They motivate me.

The Difference Between Good and Great | I believe that a person who is driven by a fear of failing and letting themselves and others down, rather than just by the desire of success, has the potential to be great. This kind of person is driven by an innate force to fulfill their responsibility and potential; they don't seek validation or praise but rather are fueled by their personal integrity, and guided by a high emotional intelligence. They understand the important of a team's dynamic – they know how to respect each individual's personalities, strengths and motivations and they create a team with one purpose and respect the people in the team as individuals. These people are great. And will be great leaders. These kinds of people can change the world.

A Key Talent | To never stop learning, evolving and being willing to change. The world changes every day, and you need to be flexible enough to move with the times professionally and personally. I learn and grow every day and you have to be humble enough to let that happen, it will make you a better and stronger person.I ensure that I surround myself with experienced people and I listen to them. I value their counsel. It is not because I am trying to be nice or accommodate people to garner popularity but because it serves me as an individual. It helps me to make better choices and by making better choices I can enjoy better successes. I learnt a long time ago that it is inevitable that with success, comes failure – mistakes and disappointments, but what matters is that I learn, I grow and I never make the same mistake twice.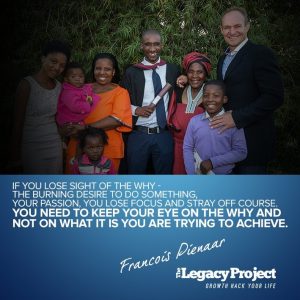 Principles I Live By | Firstly: a drive to step forward and do what is right when it is needed; I feel a personal responsibility to do something – to make a difference.  Secondly: personal integrity, I try to be consistently critical and honest with myself and stick to what I believe in and what I believe is the right thing to do. Thirdly, a sense of responsibility: I try not let my ego get in the way of what is best for my team or business, I try making decisions for the right reasons, removing my ego from the equation. Fourth: accepting my failures with grace and ensuring I always learn from my mistakes. Finally: to stay curious, critical and willing to improve on what is already working – to never stop growing and learning. My best piece of advice is to stay flexible, to own your mistakes and to use it to drive you. Soak it up and become a better person and leader for it.

How I Use My Mind | I stay focused on why I am doing this – what is my overall goal and how do I motivate my people to be the best possible individuals and therefore team to get there. I try to inspire both myself and my team with the mission and vision of what we are trying to achieve – to keep going back to that and keeping it at the heart of all the decisions I make. If you lose sight of the why – the burning desire to do something, your passion, you lose focus and stray off course. You need to keep your eye on the why and not on what it is you are trying to achieve. That will always steer you right, it will keep you strong and it will drive you. Train your mind to think differently and your actions will immediately change to align with this new, streamlined train of thought.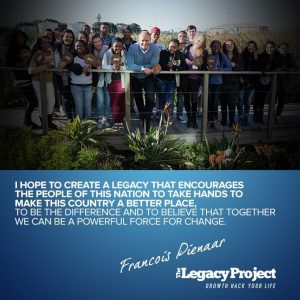 Performing At My Peak | I dream big. But I dream with a plan, I ensure I surround myself with the best individuals to help me plan, strategize and stay focused so we can execute what needs to be done in the best possible way. I aim to remain undefeated in my pursuit of achieving this goal. But to dream big and perform at your peak, you need balance. You need to be able to step out the detail and see the big picture. It is so easy to get blinded by the detail and forget why you are there. You need to invest the time into your personal life to ensure you stay on course and you stay true to the values that make you who you are. Don't lose sight of your passions, family and hobbies. They make you a better person.

I Am Inspired By | There is one leader that always comes to mind when I get asked this question, the leader that changed our nation – Nelson Mandela. His quote that inspires all aspects of my life is: ""vision without action is just a dream, action without vision just passes the time, and vision with action can change the world." He made me belief that dreams can change the world and that to achieve such change you need to plan well and execute your plan with discipline and determination.

The Legacy I Would Like To Leave | When people remember my name I want them to remember a man who tried to build a bright future for this beautiful country of ours, someone who never gave up on South Africa and what it could be. I want to create a legacy that makes people believe that with just one small act of kindness, you can change someone's life forever, and that no matter who you are we all have a responsibility to be an active citizen and to step forward and do what is right when the time so demands it.  I hope to create a legacy that encourages the people of this nation to take hands to make this country a better place, to be the difference and to believe that together we can be a powerful force for change.