Tony Leon has a long list of accolades and note-worthy achievements.  He is currently the Executive Chairman of Resolve Communications (Pty) Ltd, a South African consultancy specialising in strategic communication, reputational management and issues' advocacy. He is also a noted author, columnist and speaker. His recently published (May 2014) memoir "Opposite Mandela-Encounters with South Africa's Icon" has drawn critical acclaim. He is Advisor for Africa for K2 Business Intelligence of New York and London. For nearly twenty years Tony Leon has been a Member of Parliament in South Africa, and for thirteen years he led the Democratic Alliance and its predecessor. He is the longest serving Leader of the Opposition in Parliament, since the advent of democracy in April 1994. He led and grew his party from its marginal position on the brink of political extinction into the second largest political force in South Africa. A trained lawyer, Tony Leon actively participated in the critical constitutional negotiations which led to the birth of a democratic South Africa and served as a co-chairperson of the Constitutional Assembly's Theme Committee on Fundamental Rights.
He was born and educated in KwaZulu Natal, graduated BA.LLB from the University of the Witwatersrand, Johannesburg, and is a qualified attorney. He lives in Cape Town with his wife Michal. In February 2015, on the occasion of its 90th anniversary, Rotary Club of Durban awarded him the Paul Harris Fellowship "in appreciation of tangible and significant assistance given for the furtherance of better understanding and friendly relations among peoples of the world." Nelson Mandela said of Tony Leon, on his retirement from political leadership (2007): "Your contribution to democracy is enormous, you have more support for all you have done than you might ever read about."
My Definition of Success | Success for me used to be measured in terms of achievements (degrees, admission as an attorney, winning elections and dominating with power of ideas). Since I have stood down from front-line politics etc, I am much more taken with enjoying special moments and feeling a deep sense of contentment and nurturing relationships or even reading a very good book. Moth-to-flame ambition is very important, but then you evolve, and as you know, the moth got burnt in the end.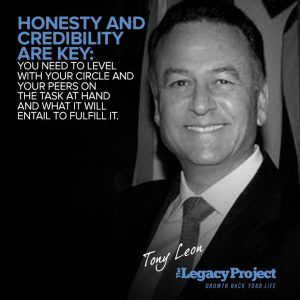 I Am Driven By | I am driven by the need to excel and not to be mediocre and to produce work of high quality and to make (or attempt) to make a difference in other peoples' lives.
The Difference Between Good and Great | Passion, the 10 000 rule of Malcolm Gladwell (i.e putting in the effort and repeating it ad nauseum) and a disdain for mediocrity.
A Key Talent | I think both having a goal and pursuing it is the essence. By this I mean that you set your sights at something and then persevere. I would say that perseverance or durability is vastly important and much underestimated.
Principles I Live By | Honesty and credibility are key: you need to level with your circle and your peers on the task at hand and what it will entail to fulfill it.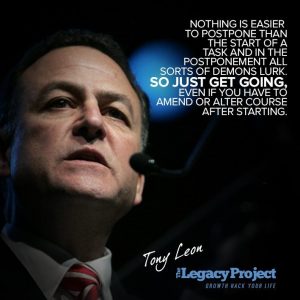 How I Use My Mind | I think clarity of purpose and de-cluttering your mind of inessentials is the key to starting any project. And once you have clarity, you need to get going. Nothing is easier to postpone than the start of a task and in the postponement all sorts of demons lurk. So just get going, even if you have tom amend or alter course after starting.
Lessons I Have Learnt | Never give up and don't be afraid to go against the grain. Indeed, I entitled my autobiography "On the Contrary." Going with the herd is easy, superficial and lacks guts.
Dealing With Doubt | All sentient beings have self-doubt. It is more than human. But to use the old cliche, there is no point to a conviction without the courage to advance it. Most of my life in opposition politics was against the majority grain. But I was always reminded that the best way of overcoming fear and doubt was to remember the cause I was leading which was much bigger than me. If you are only in business for yourself, you will achieve only small things. But being in the service of an idea or organisation much bigger than yourself allows you to achieve great things.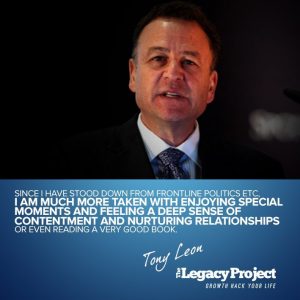 Resources I Use To Stay Inspired | I never stop reading: journals, books, histories, articles, even Twitter. I always read with purpose (and crime novels for pleasure) and think to myself" "there's a new idea here", "there's something I don't know over there', "there's a future column in that" or "wow -is this so". My endless curiosity and a good memory aided by the discipline of writing down great thoughts and ideas has been of inestimable use.
The Best Advice I've Received |"Your victories can land up costing you more than your defeats." In other words, don't get slack or complacent when you have achieved a great goal. Enjoy the moment but don't relent on your long term vision.
Useful Links | 
Speakers Inc