Bass-baritone Musa Ngqungwana is a native of Port Elizabeth, South Africa and graduated with Honours in Performance (Magna Cum Laude) from the University of Cape Town. Mr. Ngqungwana is also a graduate of the prestigious Academy of Vocal Arts (AVA) in Philadelphia. He makes a number of company debuts this season, most notably at Los Angeles Opera in the role of Queequeg in Moby Dick, followed by his first performances at The Glimmerglass Festival singing Gottardo in La gazza ladra, and at Palm Beach Opera as Zuniga in Carmen. Ngqunwana returns to Washington National Opera to sing the role of Stephen Kumalo in Kurt Weill's Lost in the Stars and performs as the bass soloist in Handel's Messiah at the U.S. Naval Academy. 
He made his European debut in the 2014-15 season singing Zuniga in a new production of Carmen for the Norwegian Opera. Musa is represented worldwide by William Guerri at Columbia Artists (CAMI) in NYC.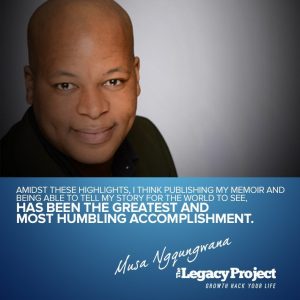 My Definition of Success | My definition of success has changed over the years. Growing up in Zwide Township, there was an emphasis on owning expensive material objects, like clothes or cars, that I couldn't afford but still wanted to own, in order to impress girls and seem "cool". For my peers in the ghetto, our definition of success was having a job at Volkswagen and getting to drive their cars, then turning that paycheck into purchasing more material objects to impress girls and seem "ayoba" (cool).
Now, my definition of success has transcended owning or wanting material things. Success is now about accomplishing career goals which I work on each day by breaking down a larger goal into smaller pieces. The words of Abraham Lincoln inspire me when he said "the greatest thing about the future is that it comes a day at a time". My small goals daily may include dividing up a larger opera or musical work into small pieces and learning a set number of pages each day. Success also means surrounding yourself with the best possible team. For me, this includes my coach, my voice teacher and my manager. They give me feedback on music and career choices. By being an accomplished artist, it then leads me to have the ability to help others with the expertise I've learned over time, which is the greatest definition of success.
I Am Driven By | My love of art, culture, nature and the understanding that God has given me a gift to entertain and to share art with others. I have always loved performing on stage, and conversing with people about young artistic talent. These are the fundamental things that drive me.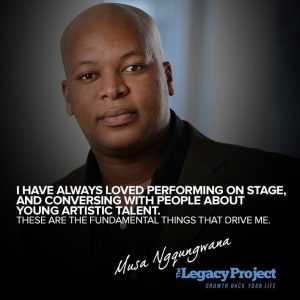 My Highlights | There are many things I'm proud of achieving. As a dropout from engineering school due to financial difficulties in 2004, I had vowed that I would study as hard as I could if I got another opportunity to study. Thus when I received the opportunity to study at the University of Cape Town under the tutelage of Professors Virginia Davids and Angelo Gobbato, I took it. Twelve years later, I have three degrees from the University of Cape Town and The Academy of Vocal Arts (AVA) in Philadelphia respectively. Because of the hard work and long hours I spent studying, I was rewarded with many academic awards including being on the Dean's Merit List for four years.
I've also received many awards from vocal competitions including the Schock Music Competition for Singers (Cape Town), Turandot Singing Competition (Verona, Italy), Hans Gabor Belvedere Competition (Vienna, Austria), Licia Albanese International Competition (New York), Giulio Gari International Vocal Competition (New York), Gerda Lissner International Singing Competition (New York) and Opera Index (New York). Additionally, I was very proud to have been chosen from over 1500 singers to be one of the six winners of the Metropolitan Opera National Council Auditions and perform with the Met Orchestra and Marco Armiliato on the Metropolitan Opera stage in 2013. Following this, I made my debut with Washington National Opera at the Kennedy Center in a production of La bohème. I have made a series of important house and role debuts since then.
Amidst these highlights, I think publishing my memoir and being able to tell my story for the world to see, has been the greatest and most humbling accomplishment.
The Difference Between Good and Great |The difference is hard work. There are many people who possess talents but that is never enough. You can have a beautiful voice, but there are millions of other singers who also have beautiful voices. What separates good from great is consistency and being comprehensive in your approach. It's also important to understand that success does not come overnight. Being open to feedback from trusted advisors is also key to success, even if it is not always the feedback you want to hear. I will continue to study voice and receive coaching because there is always something new to figure out. I am a work in progress.
A Key Talent | One of my strengths is patience. I can put this into context with an analogy about predators. As a Leo, I naturally like lions, but I also do admire tigers. Leos are known to be very confident and ambitious, which is very good. But our weaknesses are being stubborn and wanting to dominate everything. Interestingly, lions work well as a unit and like tigers, they have patience when hunting. Tigers in particular don't just chase after their prey, they calculate the distance, and every possible angle to assess chances of success. I rather like teamwork, which is why I have a team of advisers, but I'm independent as a tiger and have patience to understand that nothing happens overnight. Patience is my strongest strength which I've adopted and my ability to sing beautifully is the talent that I was gifted with.
Principles I Live By | I'm a generous person and merciful. My name, Musawenkosi, means "God's mercy" and "God's grace". Being merciful comes with being generous, loving and compassionate. I believe in human kindness, understanding and co-existing peacefully. I dislike discussing specifics of religion and politics and would rather talk about art, and music. I am also a firm believer in teamwork, because no man is an island. With teamwork comes the advantage of having people you can divide the heavy loads with, that way it becomes easier to navigate through challenging times. One can also save time and live stress-free knowing he/she has people who are supportive all the time. In Xhosa there's a saying "Isandla sihlamba esinye" meaning 'a hand washes another' in essence it is okay to accept help and support from well-meaning people without being cynical, too proud or feeling sorry for yourself.
Critical Skills I Develop | I'm a thinker, to a fault at times. In high school I was very impulsive. Now, I often write down my thoughts and let them sit for days, and go back to see if the idea was the right choice. This trait also pairs well with patience in making decisions and the ability to wait for things to come to fruition. Whenever I write, I date each draft and save it so that I can compare each one as time progresses. This also helps me to know the developments in my thought process and growth.Moreover, I now also record my coaching sessions, voice lessons and some rehearsals; not for publishing but for private use. Recording one's voice and listening to yourself for the first time can be a daunting task. But it is fundamental as it like looking yourself in the mirror, there's no place to hide as you are what you see. The recordings tell you exactly how you sound. And if you are honest enough with yourself, you'll always admit and realize the areas that need improving upon.
Over time, I've been able to track and hear the differences in my voice and the developments. This affords me a chance to be meticulous and also listen carefully to what people are saying about me. I now know aspects of my voice and am learning to listen to my body more and more, to make informed vocal decisions. This may be technical but it's the process that I follow to check my progress.
How I Use My Mind | I work through my goals one day at a time, breaking things into workable small pieces. Moreover,  I also brainstorm and write down everything and never shoot to discredit any idea as a rejected idea could end up inspiring a great idea.
Lessons I Have Learnt | Hard work takes time but pays off in the long term. An average opera singer spends a minimum of ten years at school before venturing to professional work. I'm still learning even though I've completed formal studies.
Dealing With Doubt | I've written about this extensively in my book, which I'd encourage any young and/or aspiring person to read on how I overcame my struggles. My book is available on Amazon and Createspace.com and is entitled "Odyssey of an African Opera Singer: From Zwide Township to the World Stage". I still do get nervous before an audition or a performance because of my respect for the process, but I've found a way to channel that nervous energy into positive energy. Now, I focus one aria or scene at a time. I break it down to a page, and a page into a bar, and a word at a time. The rest takes care of itself.  Nervous butterflies are there to remind you that the game is bigger than you and to stay in line and do your best.
I don't focus on negativity. I am what I am, and I have a team of people I trust to give me feedback. One needs a team to always give you feedback, because everyone has an opinion and its those collective opinions, which can inspire you to greatness. If you try to give in to everyone's advice, you'll always try to please people and sacrifice your happiness in the process. My team is there for the comprehensive feedback, and I'm able to receive others' opinions of me but filter and retain what I need. In the words of the late comedian Bernie Mack "You've got to make people respect you. Respect is bigger than dollars and cents."I view myself as a lion, with a pack of lions surrounding me, taking away the fear.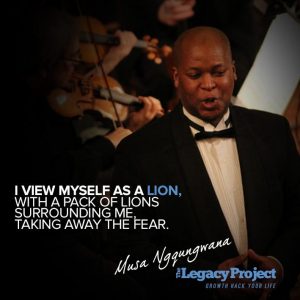 Resources I Use To Stay Inspired | I'd highly recommend all the books written by Maya Angelou and Wayne Dyer. Those motivate me on a daily basis. "The Power of Intention" by Dyer is my daily mantra.
My Future Dreams And Ambitions | Perform in all the important Opera houses of the world. Perform Rigoletto, King Philippe and Wotan. Write more books. Plus importantly, be involved in community outreach projects and be instrumental in creating scholarships for bright and young artists who have no means to study.
On Inspiring Others | For me, anyone who understands success, is always honest and understands my career world is someone I want to keep working with.
I Am Inspired By | Plácido Domingo
The Legacy I Would Like To Leave | The legacy that I hope to leave would be one that leaves people talking or studying about it many years later and would bring meaning through people's lives through the arts.