Lesego Mashishi is the founder of Limitless Occupational Therapy, a practice that assumes the role of expert witness in the court of law. They also carry out functional assessments in medical negligence cases to assist in establishing a person's functional limitations, work potential and earning capacity which aids the courts in making more informed decisions when settling medical negligence matters. Limitless Occupational Therapy also provides disability management, absentee management and employee wellness programs to corporates.  On an individual capacity, Limitless Occupational Therapy Services provides vocational (work) rehabilitation for people who were chronically ill or significantly injured to a point that their ability to work was disrupted. They also have Limitless OT Kids, which is a department that offers remedial treatment, therapy and tutoring for children presenting with learning problems.
My Definition Of Success | Realizing and utilizing my inherent gifts to influence change and to achieve all my hearts desires. As well as having a happy and emotionally sound family.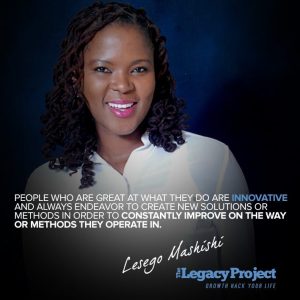 I Am Driven By | The need to always have enough financial, material and emotional resources for myself and everyone I come into contact with. I always strive to have more than enough.
My Highlights | Every time my business Limitless Occupational Therapy Services is able to employ another person that becomes a highlight in both my life and career.
The Difference Between Good And Great | People who are good at what they do often operate in the framework that they have been taught or schooled in. People who are great at what they do are innovative and always endeavor to create new solutions or methods in order to constantly improve on the way or methods they operate in. They are solution and innovation orientated.
A Key Talent |  This has to be my social skills. We always need to remember that our success is intertwined with how we relate with people. It is a person that will give you your dream job, your next mind blowing opportunity, or actually use your services or purchase goods that you are trading in. The principal of "übuntu" and treating all human beings as Kings and Queens will guarantee favour and loyalty from others. It is important to know and understand each person you engage with on any level. Know that people are the greatest resource you will ever have.
The Characteristics Of Success | Task completion- When I start something, I always finish it. Opportunities- I fully maximize every opportunity I am given to show case my talents, efficiency and effectiveness. I always ensure to exceed other people's expectations especially when handling projects and/or job tasks. Lastly, I maintain having a teachable spirit. I learn something from every person I interact with.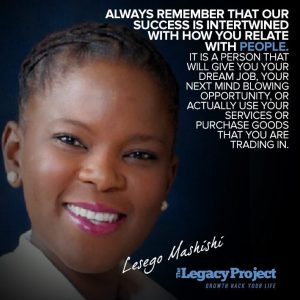 Principles I Live By | Unconditional love for all humankind. Respect, Integrity, Resilience and always pursuit empowering each person you come into contact with.
Critical Skills I Develop | When I founded my business Limitless Occupational Therapy Services, I had difficulties with being assertive in handling people that I operationally deal with on a day to day basis. I have invested time and resources in attending workshops and even therapy sessions with a Psychologist in order to become a more assertive business woman. Financial management is key, as our success is almost always directly related to our financial resources.
Lessons I Have Learnt | Before you can consider other people your Plan B, make sure you always have Plan A, C,D to Z. Learn to generate your own solutions to your life problems. Spirituality is important. You always need to know how to feed your spirit to be able to lift yourself up from any life challenges. In every life challenge, there is a key to your next break through. Face challenges head on and always strive to overcome them because they will always bring you a step closer to fulfilling our dreams. Sometimes seeking your passion, will lead to financial prosperity, most times seeking financial prosperity, affords you the luxury to seek and enjoy your passions. There is nothing wrong with either approach. Be okay with chasing money and develop a healthy relationship with money.
Performing At My Peak | I always make sure that I surround myself with people I respect and look up to that can hold me accountable for my failures or success's. I am never in a position where I can afford to be comfortable with what I have achieved. My mindset is always in a state of pursuit.
The Best Advice I've Received | Take care of your body,  a healthy body is a great machine that will help you achieve all your goals. There is very little you can do lying in a sick bed.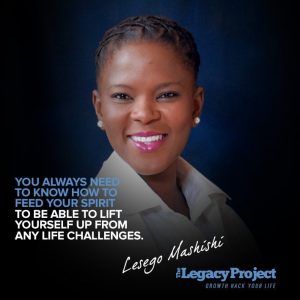 Advice On Building Wealth | Cultivate the spirit of being a diligent worker, after that, work, work and work some more until your work becomes your play. There is no substitute for WORK when aiming to build wealth.
The Legacy I Would Like To Leave | We all possess the power to build financial prosperity from nothing. I want to teach those willing to learn, how to do it.