Brendon Daniels is a South African actor, best known for his roles in Four Corners (2013), Zulu (2013) and I Now Pronounce You Black and White (2010).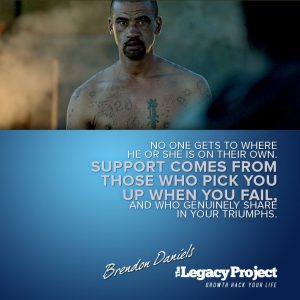 My Definition Of Success | Success used to be the accumulation of material goods. Nothing wrong with thinking like that when you are young. It kick-starts ambition after all. Success slowly turned into enjoying the journey and looking back reflecting on both failures and highlights. Reflecting on growth as a person and a professional. In doing so, I managed to acquire material goods over the years and have learned to appreciate it.

I Am Driven By | My motto: You are only as good as your next production.

A Key Talent | A "childlike" approach to challenges… everything is possible. Everything is not possible, but along the line you do find out what is. Armed with this knowledge of one-self, one is able to work on what is required to be successful. This works for me because, my plan is long term. My profession is not one from which I wish to retire from. I would like to act for as long as possible.
The Characteristics Of Success | I surrounded myself with successful people. Successful at managing their lives and careers. Habits formed as a result. This is how I gained confidence over the years. The confidence eases the fear of the unknown and you open yourself to exposure and experimenting.

Principles I Live By | Self-awareness is your responsibility…in order to be effective and true.

Critical Skills I Develop | Reading everything and anything, covering various subjects.

How I Use My Mind | I refer to my life motto: You are only as good as your next production. One has to stay fit, no matter what the chosen career is. No one gets to where he or she is on their own. Support comes from those who pick you up when you fail, and who genuinely share in your triumphs.
Performing At My Peak | Acknowledging other's achievements and using their set standards.

My Future Dreams And Ambitions | I have ambitions of directing stage plays. I wish to start and maintain my garden.