Associacao Saude Crianca founded in 1991 by Dr Vera Cordeiro is a not-for-profit, non-governmental, non-religious organization that works together with public hospitals breaking the cycle of readmissions of critically ill children from low-income, high risk environments. ASC's work has been responsible for a 60% decrease in hospitalization days among assisted families, 38% increase in average family income and significant annual savings in public spending in which helps keep more hospital beds open to those who truly need them. For its transparency, impact and wide applicability has been rewarded various prizes by institutions from around the world. Vera Cordeiro is globally recognized for her groundbreaking work in social inclusion. She is an Ashoka fellow, a Skoll Foundation and a Schwab Foundation social entrepreneur and an Avina leader. She is member of the World Council of Ashoka and from 2005 to 2011 a Board Member of PATH: A Catalyst for Global Health.
 

I Am Driven By | The understanding that all of us are one, and that individual happiness is not possible. If you are not fighting against human suffering to alleviate it, you will not alleviate your own suffering. Happiness and peace can only be achieved collectively.

A Key Talent | Before anything else, I believe that all of us have different talents. What makes a personal journey richer for yourself and for others is the degree of intensity that we all seek the truth and put it into practice. If there is a talent that I sought to develop, it was perseverance. First of all, to look inside yourself which strengths and which truths make you want to live. In my personal case, in the last instance was a social justice of human rights, principally of women, mothers, and blacks with various children and many of them sick. The constant contact with the suffering of these people, and with their strength, made me believe that with a group of really committed people, it is possible to make others aware, to change the lives of these people that live without dignity.
The moment we commit ourselves to acting in this way, certainly innumerous obstacles will appear. What I can say from my experience is that the happiness from transformations big and small in these people always intoxicated me more than the failures and obstacles, and to share these little successes with everyone who promotes this life transformation for those who live without dignity promote a virtuous circle of collective strength. This strength is moved by joy. And when happiness permeates "all" of the group, the obstacles little by little come undone. Patience is fundamental because this little by little can take decades.
The Characteristics Of Success | Tenacity, listening to those around me, and compassion helped me not just to understand who I truly am, but also helped me in the collective need to build actions that will alleviate suffering.

Principles I Live By | Solidarity, compassion, belief that all are equal, regardless of sex, age, wealth, race, or religion. Transparency and a constant search for truth. At the end of the day, what really matters is the degree of perseverance that we truly seek.

Dealing With Doubt | Doubt about ourselves and negativity always show up. The most effective form that I found to deal with fear and negativity were scriptures of various religions, such as the Bhagavad Gita, I Ching, the Bible, among others, along with yoga and meditation. Aside from this, therapy and intimate conversations with very close friends always helped me to deal with these feelings. There was a time when really I realized the depth of my fear. I concluded that to prevent it is not the way. Through meditation, I had to feel it deeply and find its roots. To my surprise, constantly devoting time to mediation gradually diluted those feelings. "Não temas o Mal" by Eva Perriakos helped me with this a lot.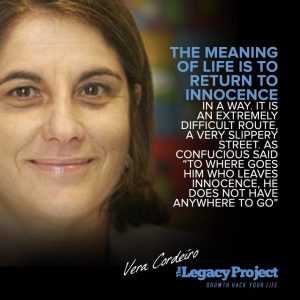 The Meaning Of Life | I think the meaning of life is to return to innocence in a way. It is an extremely difficult route, a very slippery street. As Confucious said "to where goes him who leaves innocence, he does not have anywhere to go"

The Best Advice I've Received | An Ashoka Fellow in a meeting of this organization said "as much external life you have, more internal life you have because otherwise you break"

On Inspiring Others | I think that perseverance, a profound belief that the dream is achievable, no only on my part but on the parts of others who work with me, we become very close and we become a very powerful group.
 
Useful Links |