Flavian Mucci is a Franciscan priest who was born in Boston, Massachusetts. He arrived in El Salvador in the mid-1970s, and lived there during much of the country's conflict, witnessing the consequences inflicted upon the population. Under his ministry, the SOS Children's Villages programme was coordinated. Feeling that something was still missing in his life, he decided to open a dining facility for the elderly, which became known as the Agape Association. The Agape Association of El Salvador has developed 54 programmes in the areas of education, religion, environment, communications, and hotel and restaurant services. It also runs a home for the elderly, a university for students from low-income families, a communal restaurant, several clinics, a TV station and a publishing house. One of Agape's more recent initiatives has been a training centre in the eastern city of Usulután where unemployed workers can take courses ranging from computer training to cooking lessons.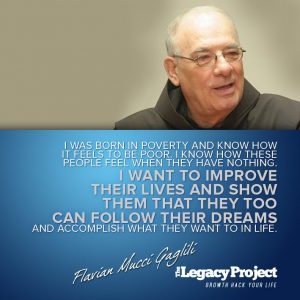 My Definition Of Success | Success means to have a goal, plan the steps to achieve the goal with high quality work before the deadline, implement  the plan and finally  achieve the goal, knowing that my contribution positively helped my project.
Yes, I changed my ideas, success was only a matter of getting rich and having things the easy way.
 
 
Principles I Live By | Appreciation of the work of others
Care for them and accept what they think
Compassion, we are different but need each other
Care for them and for what they think
Cooperation to work together
Dedication to never give up
Forgiveness to have hope again
Honesty in all that we do
Hope to keep going
Most of all, put all in the hands of the Lord
 
I Am Driven By | I was born in poverty and know how it feels to be poor. I know how these people feel when they have nothing. I want to improve their lives and show them that they too can follow their dreams and accomplish what they want to in life. With the help of the Lord all is possible. We must keep going in all that we began and believe in. Never give up and keep a positive attitude in life. We can do it. I must say, love which comes from knowing my people and wanting to help them. With love all is possible. Love keeps us going and we never stop, we are always looking for ways to help them. This comes after we know who they are and what they need. We must keep the dialogue going and accept what they believe in.

Lessons I Have Learnt | To believe in oneself….we can do it
We can do everything with the help of others and the Lord
Keep going and don't listen to negative ways
Always do your best in all that we do.
Robert Bannister broke the mile record after so many centuries of people saying that it was impossible. That the heart would not be able to take the push. He did it and once he did, many other athletes did the same knowing that I was possible.
Begin as soon as you can and keep going. Start the project.
Know when to change and how to make the change, before I was healthy and had no problems today I have bad knees and am on dialysis. This made a big change in my life and I had to learn how to adapt to this change in my health. Don't stop, keep going no matter what is in the way.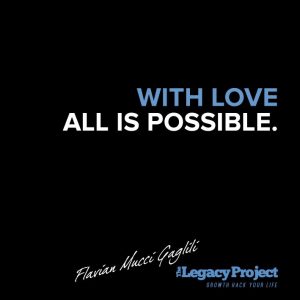 A Key Talent | I have to say it is learn how to listen. I have found out that others had many good ideas even better than mine. It taught me how to get along and accept others even when they did not think as I did. When we listen, we learn and grow. Life becomes easier to live in. Listening for me is the first step, it makes me know. The second step in life is to love which comes from listening and knowing and finally to serve which comes from love. So it's three steps, know, love and serve. That is what I want to do in life and that is my talent. I learned this from childhood and it just kept growing. That is why God created us to know love and serve him and others and to live with him forever in heaven. It helps communication with others. Listen and your life will be better; I also learned that women are more talented than men. I learned this by listening to them,

The Legacy I Would Like To Leave | I always tell the people after sermons, after telephone calls or after conversations with them…..I love you. They are three simple words that express what I think of them no matter who they are. I try to love everyone as best as I can and I would love to be remembered as the priest who loved me.

I Am Inspired By | I must say that the people of the Bible inspire me. For example the women who went to the grave of Christ after he died. They knew that the grave was closed with a huge stone and yet they kept going to anoint the Lord, how could they get in if it was closed with this stone, yet they kept going and knew that they would do what they wanted with the help of the Lord. The same with the magi who visited the child Jesus, the star was not there at all times, but yet they kept moving and put their trust in the Lord. Then we have Paul who said that he fought the good fight. He didn't say that he won all the rounds; he just said that he fought well. He didn't even say that he won, just keep fighting the good fight. He was also in chains in the dark muddy  jail and told us to be happy and obey the authorities. Also John the Baptist who gave up his followers to follow Christ and for the love of Christ.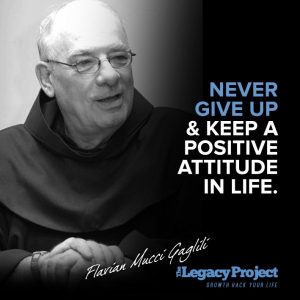 The Best Advice I've Received | That God loves us. I heard that a thousand times since I was a child from my mother and teachers but once we believe that he loves us our world changes. Everything is possible, we get super strength to finish our projects, we do not feel alone, to forgive is easier, you get peace of mind  and all is possible. Bad habits stop and a new life begins because we now have a reason to live. You find the meaning of life. All doubts and fears disappear and your dreams come true.
That all good things have a price. If you want to be a drunk, a drug addict, a bum, it is free but if you want to succeed in life it will have a cost of hard work and dedication.

Advice On Building Wealth | Christ never condemned the rich. It's good to have wealth. The problem is how to use the wealth for the poor and others. If the Lord gives us talents it must be shared with others. Know how to use the gifts that God has given us is the key to happiness.