Edward Mogano is a vibrant and talented young South African, that we've recently discovered, who seems to have his head firmly entrenched in helping prepare the youth of today for the solutions of tomorrow, as he blogs about creating awareness around the current paradigm-shift trends taking place throughout the world right now.

About my Life Mission | My primary aim is to progress towards achieving all my lifetime goals. To do great work that inspires, by leveraging what God has held me responsible with. Most importantly to be wise and nice to everyone I come across with. To build system-dependent companies that will act as vehicles for the wealth I will accumulate, to travel the world and to share the abundance given to me, because I believe every good thing comes from heaven.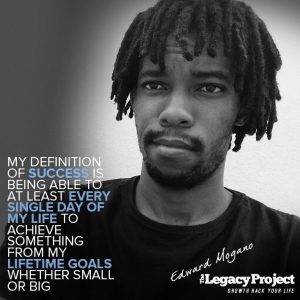 My Definition Of Success | My definition of success is being able to, at least every single day of my life, try and achieve something from my lifetime goals whether small or big. The categories range from; Personal, attitude, career, financial, education, health, mental health, spiritual, family, social, artistic, pleasure vacation and community/public services.

I Am Driven By | My… WHY. Why I get up in the morning? Why I continue certain things when I'm tired, but still push my body to its boundaries. But it really is simple. LOVE motivates me, it is deeply rooted in my DNA. That what drives me. I do the things I do because I love them. When I do the things I don't love its either I do them half heartily or I seem to procrastinate until the last minute to do them because I'm not motivated. I think it's like that with everyone.

My Highlights |
• Vice President at IIE Rosebank college 2015
• Founder of BornGenY blog www.borngeny.wordpress.com
• Author of @thvtguyedward quotes on both Instagram and Pinterest

The Magic in me Originates From | I think we can use magic and faith as interchangeables. My faith comes from God. If there's one thing Christianity has taught me – it is to believe. Now with belief everything is possible. Now we can bring back that word "magic" because with this magic/belief I am able to achieve everything I set out to achieve. It's truly magic. It comes from deep inside my soul, it's the power my creator gave me.

The Difference Between Good And Great | Good is 'you can do much better than that' or 'I can also do that'. Good pays the bills. Good is when I am in my comfort zone but I know I can do so much better. Great is WOW!! Great is a legacy!

A Key Talent | Writing

Principles, Values and Ideologies I Live By | 3 most important principles that matter to me
1. Commitment to God
2. Wisdom
3. Courage
Personal Values
1. To know my purpose
2. To have vitality/energy for life
3. To have good health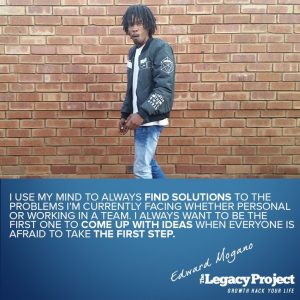 Life Style Values
1. Spending time at home with family
2. Being able to travel
3. Being involved in a relationship
Relationship Values
1. To add value to others' lives
2. To be an effective communicator
3. To influence many people's lives
Work Values
1. To be acknowledged for my work
2. To earn a good salary
3. To do work that is meaningful

How I Use My Mind | I use my mind to always find solutions to the problems I'm currently facing whether personal or working in a team. I always want to be the first one to come up with ideas when everyone is afraid to take the first step.

Lessons I Have Learnt | We are all different because we come from different places, religions, homes, communities etc. Therefore, when we come to disagreements with one another, in most cases it's not because the other person is wrong but it is because we perceive reality to be different. So the best we can do is to try to come to a common understanding of the issues at hand.

Dealing With Doubt | Most of the times when I have to deal with doubt it is because I have looked into my past and assumed that it will just 'repeat' itself. Now, I'm learning to worry less and believe in the magic I was talking about earlier, believe that I possess enough power in and with the help from others to defeat doubt and achieve what I set my mind to.

Resources I Use To Stay Inspired | First of all my family and friends inspire me to achieve more. It's also so nice when a stranger approaches you and say "Hey, I saw what you did right there, good job". That gives me great pleasure so I want to achieve more and more. The sense of contributing towards something and having a sense of belonging inspires me. And I draw my inspiration from a lot of things whether it is the stars I see on TV achieving great things, or people on social media, our great leaders that have passed, the movie I watch, the books I read, even the music I listen to.
My Future Dreams And Ambitions | I consider myself a serial entrepreneur. My dream is to own a conglomerate of companies and really inspire people to do what they love.

The Best Advice I've Received | Steve Jobs commencement speech at Stanford 2005, "do what you love"

Advice On Building Wealth | Invest in;
• Stocks
• Bonds
• Real estate
• Companies
• VC's
I Am Inspired By | Steve Jobs