With a tenacious spirit and a steely determination, Farah Fortune started her own PR company in 2008. Steering through struggles and bumpy roads, Farah focused her energy on promoting South African hip-hop performers thereby creating a niche for herself resulting in growth for her company into Nigeria and imminently further afield into Botswana and Ghana. Driven by a devotion to her daughter and a passion for building relationships, Farah unveils a bit about herself with us here: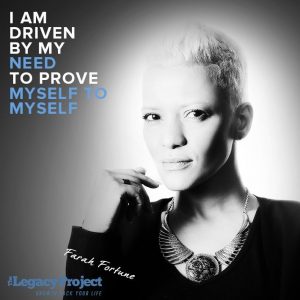 My Definition Of Success | Being able to not notice when it's pay day!
I Am Driven By | My need to prove myself to myself
My Highlights | Meeting Clint Eastwood!
The Difference Between Good And Great | Good is safe. Great is a risk you believe in
A Key Talent | Kindness
The Characteristics Of Success | Success means different things to different people. Success to me is being able to pay my bills every month and feed my daughter
Principles I Live by | Always pay your blessings forward
Critical Skills I Develop | Relationship building is essential!
How I Use My Mind | As effectively as possible
Lessons I Have Learnt | Trust is a gift
Dealing With Doubt | Doubt is all in the mind. It only materializes if you let it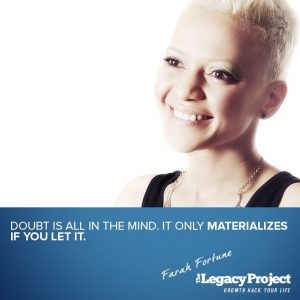 Performing At My Peak | I always endeavor for everything I do to be at my peak
Resources I Use To Stay Inspired | My daughter inspires me in everything I do
My Future Dreams And Ambitions | To own an island one day
The Meaning Of Life | To experience everything you possibly can in your short time on earth
The Best Advice I've Received | Never chase money, chase passion. Once you chase passion, money will chase you- My mom
Advice On Building Wealth | Save, save and save some more. Then ask yourself, do you need it? Or do you want it?
On Inspiring Others | I honestly just try and inspire myself, however if someone achieves their dreams off mine, then I appreciate that
I Am Inspired By | People who make a difference to other people's lives without wanting anything in return
The Legacy I Would Like To Leave | I would like to leave a legacy of giving.
---