Lyall Sprong & Marc Nicolson run Thingking, a designer-maker consultancy. They work in things and ideas of expression and problem solving. Their aim is to create work that increasingly reflects a deeper sense of place and understanding. Sprong has studied Industrial Design at the Cape Peninsula University of Technology of Cape Town where he graduated in 2006. During the same year he was awarded one of the most prestigious competition for design students in South Africa: Mr. Price/House & Leisure Student Design Awards. 
Thingking was involved in the Mandela Day project named #Anotherlightup in 2014 along with Design Indaba, Trust and Faith47.  Their aim was to activate the public into making a difference in their community. The main goal was to raise money to get streetlights put up in Monwabisi Park in Khayelitsha. A mural named "The Harvest" was put up on the left-hand side of De Waal Drive and they lit it up with LED lights at night as a promotional tool and has now become a landmark in Cape Town. It would light up each time money was raised for a light to be installed. The lighting pattern on the mural was designed by Thingking.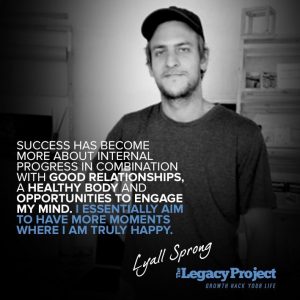 My Definition of Success | Success was much more about accolades and a growing list of experiences that I had gone through.Success has become more about internal progress in combination with good relationships, a healthy body and opportunities to engage my mind. I essentially aim to have more moments where I am truly happy.
I Am Driven By | The possibility, however small it might sometimes appear to be, that we are part a boarder conscious cosmological narrative.
Difference Between Good and Great | People who become 'great' at something specific need to want that something specific more than a lot of other things. In this sense greatness is about sacrifice in combination with discipline I have also been thinking about how perfectionism is often the enemy of creativity but that you still have to be striving for some kind of excellence. Perhaps people who become great get the balance right?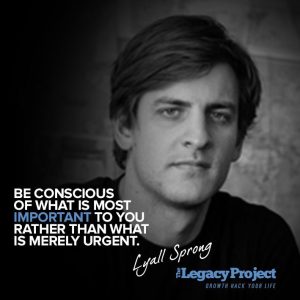 My Highlights | Often when you reach your destination, you find that you no longer want to be there. I am probably more proud of moments of realization or rather the experience of ideas. Recently I was thinking about the future and all the things that I need to be and do and then I realised or rather experienced the idea that all you really have is the present moment in which to allow yourself to be all of those things. This might sound a bit up in the sky, but this is because words are too limiting to accurately convey something that ultimately has to be experienced.
A Key Talent | There is no step by step process. Each human may as well be a distinct species so get to know yourself! Constantly strive to be independent. Question what you think and why you think it. What are the assumptions from which I act and how might these be re-evaluated? If I am thinking the same thing or in the same way as everyone else, then I might not actually be thinking. Be conscious of what is most important to you rather than what is merely urgent.
How I Use My Mind | Focus on all the yellow objects in a room and this is all that you will see. Focus on the best attributes of an individual or situation and these are the characteristics that you will help grow.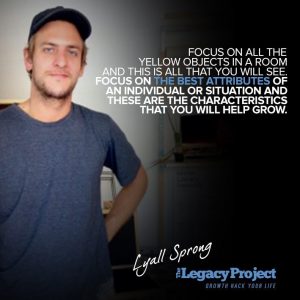 Performing At My Peak | We are not always at our peak but regular exercise, healthy food and sleep are the obvious answers.
The Meaning of Life | To enjoy the process, to know there is no destination or answer; it will always be a mystery.